Amita Weerakoon Admin
Tour Summary
Game 1 – ACS U18 vs St Servetus College 1st XI at Uyanwatt Stadium (ICC 1st Class venue)– ACS lost
Game 2 – ACS U18 vs Sri Sumangala College 1st XI at Foundation of Goodwill Ground – Draw
Game 3 – ACS U18 vs Debarawewa National School 1st XI at Hambantotte International Stadium (ICC test venue) – ACS won
Game 4 –ACS U18 vs Gurukula College 1st XI at P Saravanamuttu (P Sara) International Stadium (ICC test venue) – ACS lost
Game 5 – ACS U18 vs St Peters U17 at Thurstan College grounds (ICC 1st class venue) – ACS won
Game 6 – ACS U18 vs St Josephs U17 at MCA grounds (ICC 1st class venue) – ACS lost
A privilege to play at international cricket stadiums for our boys – Meredith Marshall.
Game 1 – ACS U18 vs St Servetus College 1st XI at Uyanwatt Stadium (ICC 1st Class venue)
St Servetus College 1st XI: 259 for 7 wickets
ACS U18: 132 all out
St Servetus won by 127 runs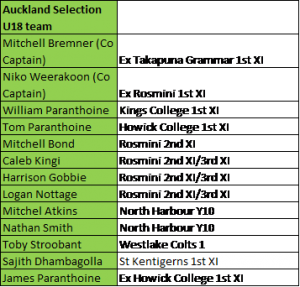 Game 2 – ACS U18 vs Sri Sumangala College 1st XI at Foundation of Goodwill Ground
Television New Zealand's very popular news presenter Nicole Bremner presenting a gear bag full of cricket equipments (above) to the Teacher in Charge of Sri Sumangala College on behalf of the Auckland Cricket Selection team.
"It's fantastic that support from the international cricket community helped rebuild this ground and new facilities after the 2004 tsunami. Loved the four-legged fans too!!" – Nicole Bremner
Match abandoned due to rain.
Game 3- ACS U18 vs Debarawewa National School 1st XI at Hambantotte International Stadium (ICC test venue)
ACS U18 won by 43 runs
Top of Form
July 15, 2018 · Visit to Galle Dutch Fort (UNESCO World Heritage site) and watched the Sri Lankan team spin the strong South Africa team for their lowest test score in test cricket since their redemption. Great afternoon at the Galle Dutch Fort.
Game 4 –ACS U18 vs Gurukula College 1st XI at P Saravanamuttu (P Sara) International Stadium (ICC test venue)
Game 5 – ACS U18 vs St Peters U17 at Thurstan College grounds (ICC 1st class venue)
ACS U18's vs St Peters College Colombo U18's at Thurstan College grounds, which is Amita's former College grounds. Great win by our boys over a strong St Peter's team that has been unbeaten this season in Sri Lanka.
ACS won by
Game 6 – ACS U18 vs St Josephs U17 at MCA grounds (ICC 1st class venue)
July 27, 2018 ·  The last game for our Under 18's against the St Joseph's College (SJC) U18 team that included couple of current Sri Lankan U17 players at Mercantile Cricket Association (MCA) Grounds.
Despite a brilliant 87 runs scored by Mitchell Bremner, we lost to SJC by 5 wickets. SJC team was coached by former Sri Lankan cricketer Roger Wijesuriya. has produced some great and current international cricketers in Angelo Matthews, Thisara Perera and Dimuth Karunarathne.
Leisure activities during the tour – visiting Turtle hatchery and Galle Fort (UNESCO World Heritage site), Udawalawe National Safari Park, Colombo City tour, shopping and goodbyes.
Visit to Turtle hatchery.
Visiting Udawalawe National Safari park.
Visiting Galle Fort (UNESCO World Heritage site), Torrington Square (part of Colombo City Tour)
Doug Cowie Sri Lanka is a great place to visit – people and places you will never forget!
Doug Cowie – former international cricket umpire and current head of the Auckland Cricket Umpires
Shopping for the finest Ceylon Tea for adults and finest cricket gear for the boys.
Goodbyes and thanking the local support staff.
Both ACS U18 and U15 teams at Mount Lavenia Hotel entrnce to the left and to the right, the bus with the U18 group leaving Kingsbury Hotel to the airport.
Scott Bremner Nice photos, great tour. Fantastic memories. Thank you so much for organising the tour to beautiful SriLanka ?